How long does a medical negligence claim take?
Are you considering making a medical negligence claim? Well, it can seem like a daunting task. So how long does a medical negligence case take? And what do you need to do to make a successful claim?
This blog post will provide an overview of the entire process, from start to finish. We will also discuss some of the factors that can affect how long your claim takes. So if you are considering making a medical negligence claim, read this post!
What is a medical negligence claim, and what does it cover?
A medical negligence claim is a legal action against a healthcare professional or organisation used to seek compensation for injuries or damages caused by their negligence.
Some things medical negligence claims cover:
Delayed diagnosis
Birth injuries
Care home negligence
Incorrect surgery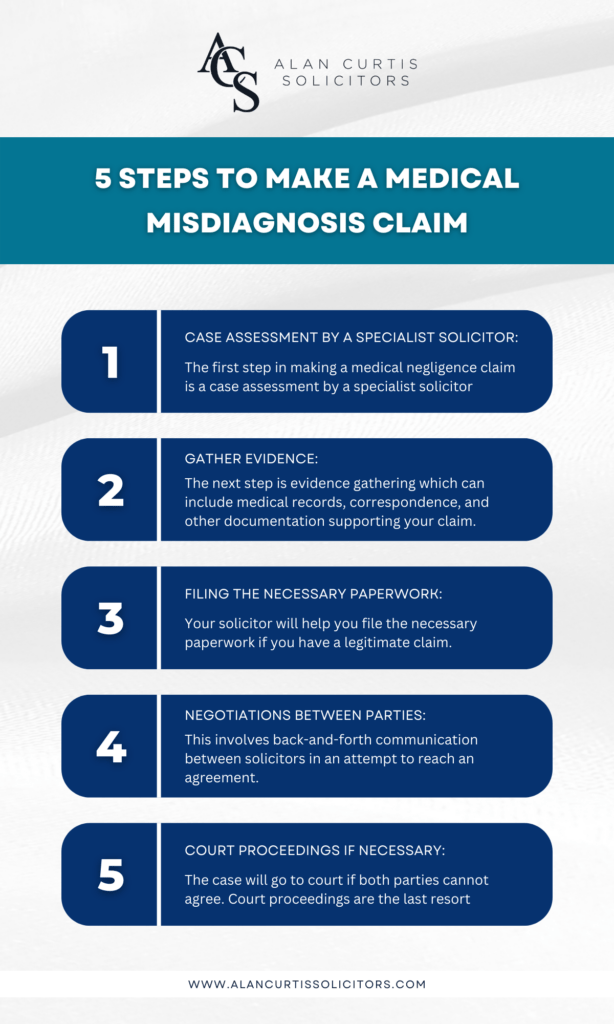 Step one - case assessment
The first step in making a medical negligence claim is a case assessment by a specialist solicitor. They will look at your circumstances and decide whether or not you have a valid lawsuit. If they believe you do, they will take on your case and start gathering evidence.
Most solicitors will provide free case assessments. If you'd like us to consider your case, use the form on our contact page or medical negligence page, and we'll get back to you promptly.
What happens during a case assessment?
Your solicitor will ask you about the facts of your case, what happened and where.
Step two - Medical Records:
The next step is evidence gathering which can include medical records, correspondence, and other documentation supporting your claim. Once you have this information, you'll need to submit it to your solicitor for review.
Good medical negligence solicitors will have access to medical experts who will provide medical reports, giving the solicitors more insight into how the negligence occurred and who was at fault.
Step three - Starting the claim:
Once the evidence is gathered and the medical professionals have reviewed your case, your solicitor will help you file the necessary paperwork if you have a legitimate claim. This will start the legal process and allow your solicitor to gather evidence from the other party. The other party will legally have 21 days to respond to your claim.
Step four - Negotiations:
Your solicitor will contact the other party to start negotiation proceedings. This involves back-and-forth communication between solicitors in an attempt to reach an agreement.
Step five (if necessary) - Court proceedings:
The case will go to court if both parties cannot agree. Court proceedings are the last resort and are usually only necessary if the other party denies liability, or there are significant disagreements about how much compensation is owed.
The court process can take many months, or even years, to complete. However, your solicitor always aims to resolve medical negligence claims without court proceedings.
Step six - Payout:
If your claim is successful, you will receive a final settlement from the other party. The amount of claim compensation you receive will depend on the severity of your injuries and their impact on your life.
Some solicitors might also claim interim payments based on damages and expenses, which can help your cash flow during the case. Interim payments can't always be claimed for and are usually only considered during a longer claims process.
Making a medical negligence claim can be a long and complex process. However, with the help of a specialist solicitor, you can ensure that your claim is handled correctly and efficiently.
Factors affecting how long your claim will take:
Solicitors will always try to avoid long medical negligence claims where possible.
How long it takes to gather evidence:
Gathering evidence can be the longest part of the process as it can take time to get your records and other documentation.
Case complexity:
Every case is different, and some are more complex than others. Many factors can make a case more complicated, including:
The number of parties involved
The severity of the injuries
Whether there is a dispute about who was at fault
Whether the other party denies liability
The severity of your injuries:
If you have suffered severe or life-changing injuries, your claim will likely take longer than if your injuries are minor. This is because more evidence will be required to support your claim, and negotiations will probably be more complex.
The other party's response:
If the other party denies liability, your claim will take longer as more evidence might need to be gathered to prove their negligence.
Whether or not you go to court:
Most claims get resolved without going to court; however, if your case goes to court, it could take many months or even years to reach a decision.
How long does a medical negligence claim take?
The average medical negligence claim takes between nine and twelve months from the initial case assessment to a compensation settlement. However, some claims can take longer, depending on the abovementioned factors.
How can I get expert legal advice for medical negligence claims in the UK?
There are many medical negligence experts in the UK. To find one near you, search for 'medical negligence solicitor' online.
When you seek legal advice, it's essential to choose a solicitor who has experience dealing with similar cases to yours and is regulated by the Solicitors Regulation Authority. An experienced solicitor will increase your chances of success and help ensure your claim gets handled efficiently.
Alan has over 25 years of experience winning medical negligence cases. With a friendly and knowledgeable team of solicitors and medical specialists, Alan can help you to get the compensation you deserve. You can find out more about our medical negligence service here, and don't forget we always offer free case assessments and legal advice.